See on
Scoop.it
-
FoodHub Las Vegas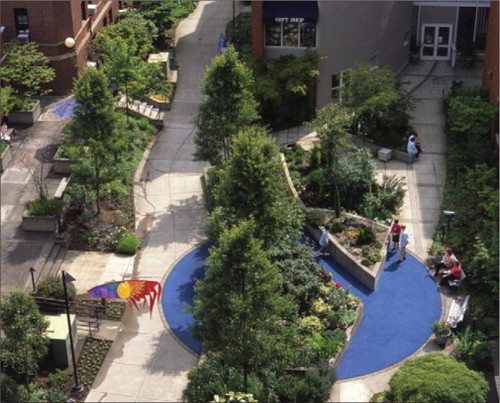 Gardens that take care of us. By - Adrian Burton
http://www.thelancet.com/journals/laneur/article/PIIS1474-4422%2814%2970002-X/fulltext#
The idea that gardens can have calming, restorative, and even healing effects is certainly not new to western medicine. InVictorian Britain, gardens were an important feature of many psychiatric hospitals. In the modern design of hospital and care-facility gardens, however, landscape architects are looking to understand and maximise these effects for different types of patient. via https://www.facebook.com/therapeuticlandscapes "In the case of Alzheimer's disease and other forms of dementia, we now know enough about the implications of changes in spatial cognition to create gardens that are accessible, supportive, and prosthetic", explains Clare Cooper Marcus (University of California, Berkeley, CA, USA). "For example, the Living Garden at the Family Life Center (designed by Martha Tyson) in Grand Rapids, Michigan (USA), is [first] designed to be safe for patients. It is visible from a frequently used indoor space since residents may forget it is there. Entry from a single door to a level garden path, which is a simple figure-of-eight loop with recognisable landmarks along the way, enables people to navigate with no confusing right or left turns or dead ends that could give rise to agitation or anger. The return of the path to that single door prevents any confusion as to how to re-enter the building, and all parts of the garden are visible to the staff."
Rick Passo's insight:
Nice article about  Gardens in Health Care conference. It was a good one! 
http://www.thelundreport.org/content/legacy-conference-focuses-healing-power-nature.
The Therapeutic Landscapes Network is a knowledge base and gathering space about healing gardens, restorative landscapes and other green spaces that promote health and well-being. We are an international, multidisciplinary community of designers, health and human service providers, scholars and gardeners. Though our focus is broad, our primary emphasis is on evidence-based design and landscapes in healthcare settings.
Naomi Sachs, ASLA@healinggarden
Director of the Therapeutic Landscapes Network: Connecting people with nature to promote health and well-being.
http://www.healinglandscapes.org/
See on thelancet.com