See on
Scoop.it
-
Yellow Boat Social Entrepreneurism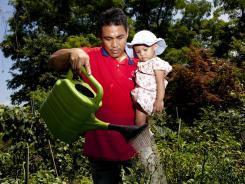 About 400 refugees are taking part in an International Rescue Committee program allowing them to do something familiar: growing things.
The 6-year-old effort aims to help refugees get used to their new countries by allowing them to do something that is familiar and empowering: growing things.
At 17 farms in nine cities, refugees and other immigrants aided by the IRC tend vegetables at community gardens and either take them home or sell them at farmers' markets.
http://www.usatoday.com/news/nation/story/2012-08-01/refugees-urban-gardening/56755370/1
See on usatoday.com