See on
Scoop.it
-
Yellow Boat Social Entrepreneurism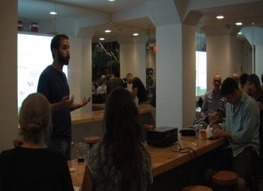 At the July Food+Tech Meetup, the theme was distribution — more efficiently getting food from farm to fork. Presenters from three startups outlined how they are tackling the issue, their business model and their vision for a new food system, including Matt Hatoun of Wholeshare, Jennifer Goggin of FarmersWeb and Arnie Katz of Relay Foods. Also presenting was George Fatakhov on behalf of Appetude, a dish discovery startup.
http://www.foodandtechconnect.com/site/2012/08/16/startups-food-distribution/ ;
http://www.meetup.com/food-tech/events/72769122/ ;
Companies Demoing
- Relay Foods is disrupting the largest retail category – groceries, while also efficiently connecting farm and fork. @relayfoods 
- Appetude is a social network that lets users discover, share, and order dishes online. @appetude
- FarmersWeb is an online marketplace where wholesale buyers can connect and transact with local farms. @farmersweb
- Wholeshare helps people get access to good quality, affordable local food by organizing group purchases. @wholeshare 
http://www.foodandtechconnect.com/site/2012/08/16/nutrition-data-api/ ;
Changing diets and consumer preferences are forcing restaurants and food brands to find ways to share nutrition and ingredient information with their customers. Also, restaurant chains with 20 or more locations are now required to  provide detailed nutrition information on their menus, thanks to a provision upheld in "Obamacare." But many don't have  have central databases to easily organize and publish this data.
Nutritionix is trying to tackle this problem by building a suite of tools that allow restaurants and food brands to organize and publish their nutritional data, thereby making it easier for consumers to interact with it. Through Nutritionix's widgets – interactive menus, allergen menus, nutrition calculators and nutrition transparency ratings- customers can get accurate nutrition and allergen information for menu items. 
See on foodandtechconnect.com