See on
Scoop.it
-
Yellow Boat Social Entrepreneurism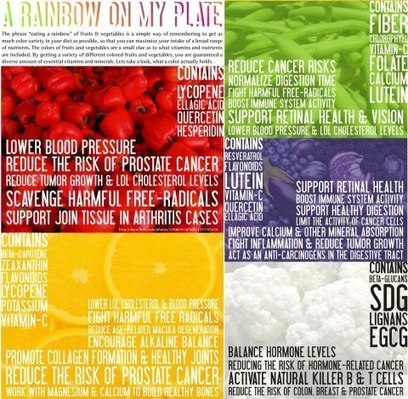 A Rainbow on my Plate
via https://www.facebook.com/NutritionSolutionLifestyle
Source: healthytimesblog.com
https://www.facebook.com/photo.php?fbid=278536138913314&set=a.246894005410861.41857.206507289449533&type=1&theater

The phrase "eating a rainbow" of fruits & vegetables is a simple way of remembering to get as much color variety in your diet as possible, so that you can maximize your intake of a broad range of nutrients. The colors of fruits and vegetables are a small clue to what vitamins and nutrients are included. By getting variety, you are guaranteed a diverse amount of essential vitamins and minerals. Lets take a look, what color actually holds.

What is your favorite color of fruits and vegetables?
check out this related link: https://www.facebook.com/FaceYourFood
and https://www.facebook.com/PepperItForward
The more stories, the more recipes, the more heritages, the better! The better the collective attempt to "capture" the hues and rainbows and heritages of our interconnected worlds and our individual and collective heritages…. thereby building "rainbow bridges" via social media and via old world heritages around the world.
See on facebook.com