See on
Scoop.it
-
Yellow Boat Social Entrepreneurism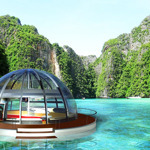 As shorelines recede, populations grow and property-ownership ideas evolve, designers and architects are prompted to re-think how — and where — we live. Many look to the water.
http://homes.yahoo.com/news/floating-homes-of-the-future.html?page=all
With more than 3,000 square feet of living surface and three levels of decking, the WHY concept yacht is designed for living — and entertaining. In part, what distinguishes the design is its emphasis on sustainability (relative to other yachts.) The vessel relies on thermal energy and recycled organic and inorganic waste, ideally resulting in a low impact on the sea. Luxurious and easy on the eye, the minimalist interiors features walls of glass, modern furnishings, an elaborate curved staircase and a tree growing in the center of the living space.


See on homes.yahoo.com