See on
Scoop.it
-
Yellow Boat Social Entrepreneurism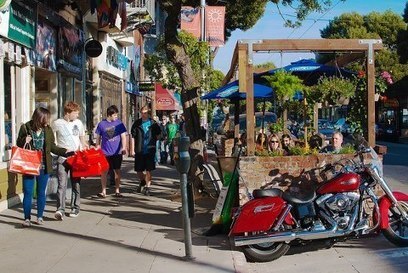 Rick Passo wrote: #BAGBParklet?? Why not? 
https://www.facebook.com/rick.passo/posts/445033798871628
http://www.smartplanet.com/blog/report/in-san-francisco-the-business-of-temporary-parks/185
The 800,000 residents of San Francisco have access to 220 different parks, which comprise 30,000 acres — 18 percent of the total area of this City by the Bay. A new movement here seeks to add even more green, public spaces by reclaiming city streetscapes for pedestrian use. These temporary parks are obviously designed to benefit residents, but there are other beneficiaries. Among them: local businesses.
On September 18, the Center for Architecture + Design hosted a panel discussion called Design: It's About Time, about the concepts and development of temporary spaces — or, "interventions" — as they are often called, as part of the month-long Architecture and the City Festival.
Temporary spaces include the 35 (and counting) parklets that have cropped up in metered parking spots and unused corners around the city over the past couple years as part of the Pavement to Parks program. As in most dense urban areas, searching for street parking in San Francisco is an exercise in frustration. Installing a parklet, each of which takes a couple or few parking spots out of commission, seems like it would be a hard sell. It likely would be, were it not for the fact that parklets are developed with the cooperation of — and partial funding from — their adjacent business or businesses.
http://sfpavementtoparks.sfplanning.org/
https://www.facebook.com/SFParklets
About Parklets Mission Transformational interventions to the public realm and how people think about it. Description Public places where once were parking spaces. General Information A component of the Pavement to Parks program testing public spaces in underused street space.
Parklets create new public amenities in parking spaces.
See on facebook.com