See on
Scoop.it
-
Yellow Boat Social Entrepreneurism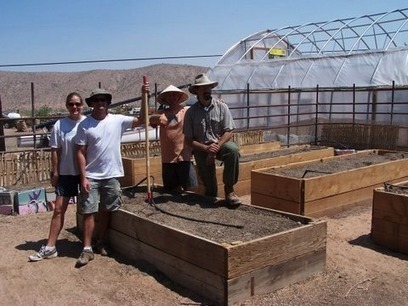 http://lvhelpgro.net/evidence-why-how-project-angel-faces-already#comment
need commitments for supplies of soil, or funds to purchase soil to fill the beds once they are placed
From: rhonda killough 
Date: Sat, Oct 6, 2012 at 2:15 PM
Subject: Re: Project Angel Faces & how it ALREADY is connecting with downtown and deserves better downtown project support
To: Richard Passo 
Cc:
Hey there, Rick,
Thank you for working so hard to support our efforts here at Project AngelFaces. It is true that our work does benefit the whole valley— including downtown— and that we work throughout the valley to improve quality of life and sustainable living through our many programs. We often deliver shares of fresh fruits and vegetables to agencies downtown that serve those in need. We focus on youth and elders first, so our downtown deliveries most often go to the Shannon West Homeless Youth Shelter for HELP of Southern Nevada, and to the community Senior center on Las Vegas Boulevard at the 95 downtown as well.  We are always looking toward the future days when we can have an actual garden growing downtown, and hopeful that the dreams we have of a downtown garden some day will come true. We look forward to having the opportunity to build the relationships necessary for building such a dream, very much.    For now, however…   We are excited about all the opportunities for more growth serving those in need that we have immediately before us.  And in order to accomplish these goals of coming together at Global Day as a city-wide community, building the Whitney Recreation garden— whose relationships with the County workers at Whitney Rec. and Senior center, and the people of the community Project AngelFaces has been building for 6 years. We have been working towards having a garden for that location first, before downtown,  primarily because it is statistically the most impoverished community in the entire county. Project AngelFaces sincerely tries to work from area of highest need first. The community of our fellow Las Vegans that live downtown have more visibility of their need, and their need is indeed great, of course. Nevertheless, we have the statistics and the relationships behind building the Whitney Recreation Garden at this present moment. We do so hope to grow into the ability to create the community in the downtown area that can build, and tend, a garden, in the future. I have found, through my experience building garden projects and community throughout the Valley since 2005, that one of the best ways we can begin building the relationships— that develop into such projects as the downtown garden we dream of— is by volunteering together, helping others in greater need than ourselves. Volunteering together is fun, and a great way to make new friends. We sincerely need the help of the whole community to come together to help us in or efforts at Global Day 2012 building this community garden. We sincerely hope that those who live and and work downtown will consider our invitation to build together: this garden, and we hope many friendships, as well. Project AngelFaces seeks to weave together the web of all communities without specific religious ties or practices; we strive to bring together everyone with opportunities to shine our lights and build a better city by sharing the best of ourselves. Coming together at the Project AngelFaces Service Project for Global Day 2012 presents such an incredible opportunity to accomplish so much more than solely building a new garden for those in great need. We hope you can all join us to accomplish such wonderful potentials, together.
Thank you, again, for all you are doing to promote community participation in this event. We need so much help to make it happen, and you are being very generous with your time and efforts. Project AngelFaces is deeply grateful for your selfless support, Rick. We hope your work bears much fruit for us all!! Please find attached a printable flier that we ask you to distribute far and wide to help us gather support for making the Project AngelFaces service learning project at Global Day 2012 a success. Thank you.
Light and Gratitude— Rhonda K. Killough Founder, Director, Project AngelFaces
www.projectangelfaces.org
See on lvhelpgro.net