See on
Scoop.it
-
Yellow Boat Social Entrepreneurism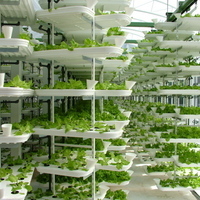 All Food Should be Local - Help us change the way we plant, grow, and distribute food in America. Urban Aquaponic Micro Farms. We'll build one near you?
http://www.indiegogo.com/projects/227981?c=gallery&a=519136
I have contributed and encourage everyone else to help too!
Crowd Funding Starts TODAY!

At 5:47 AM (EST) The Family Fish Farms Network, Inc went live with its crowd funding campaign in the IndieGoGo site: (go see us and PLEASE register and "like,' us as wellhttp://ig
g.me/p/227981?a=906461  ) Over the next few days we will be adding graphics and making household improvements, let us know if you see anything that needs fixing or, if you have an idea to share.
The Fist Few Days Are Critical!
If we do not have action on the site it will be removed. This is essentially bridge financing for us. It will help us to finish the prototype and secure the IP and patent rights as well. So … it is also essential for our momentum which we have been successfully building over the last year. We need all of you to jump on the bandwagon NOW! Here's what you can do to help. Go to the link above. Register on the site! Then view our presentation. Click like. The more "likes," we get the more the IndieGoGo site will promote us. 
This is an early notification. A Press Release and social media campaign will launch tomorrow. Family Fish Farms
@famfishfarm
We plan to deploy a network of 280+ Aquaponic Urban Farms owned and operated by the community. Healthy food locally grown.
Washington, DC · 
http://familyfishfarms.blogspot.com
See on indiegogo.com