See on
Scoop.it
-
Yellow Boat Social Entrepreneurism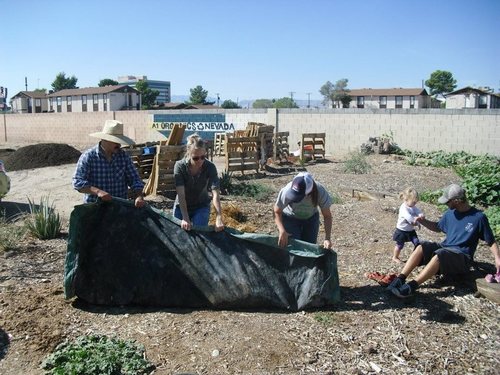 Great Basin Permaculture at Vegas Roots Community Garden
GBP is a nonprofit consisting of committed, visionary people seeking to live harmoniously with the desert and show our community how to do the same.
https://www.facebook.com/greatbasinpermaculture
Vegas Roots Community Garden is Las Vegas' 1st public garden. Located downtown, creating social change through agriculture. www.vegasroots.org
http://greatbasinpermaculture.org/gardenlog?mode=MessageList&eid=1102835#1102835
A beautiful day at the garden today! Read the Garden Log to see what we accomplished.
http://greatbasinpermaculture.org/gardenlog?mode=MessageList&eid=1102835#1102835
PLG 10/13 (17 photos) PLG Work Bee 10/13 Pictures Added 3 layers to the cob bench. Final 3 layers next week! Accomplished Today:  *pulled horse thistle *freed the pomegranate and grapes from the clutches of the gourd *furthur work on the date palm/bermuda grass, dug wells around date palms *staked trees *Added 3 more layers to cob bench *Turned compost *planted seeds (Tiff please add what seeds you planted here)   Observations: *ground was spongy and held moisture well after recent rain *boy date palm is rooting well, girl date palm has barely rooted  *one almond dropped all leaves, still alive *lots of butterflies and bees and birds (eating the almost ripe jujubes! darn birds) *lots of little clover sprouts from recent rain    Need to do: * finish digging up bermuda and sheet mulching date palm corner, complete with wells for date palms * spread donated compost (thanks Pete and Springs Preserve!) around trees, bushes, and in sunken bed * pallet bench 2 with sink * set up area for dining and serving  * use pallets and bricks to set up raffle table * finish cob bench * plant seedling starts     Who came by: Jessica, Peter, George, Pete and family, Tiffany, Jon, and little Whisenants
Thank you for your help today! Last modified: October 13, 2012 7:41 PM | Jessica Penrod (Administrator)
See on facebook.com