See on
Scoop.it
-
Yellow Boat Social Entrepreneurism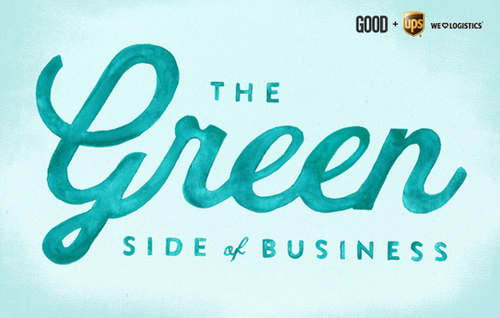 The Green Side of Business Challenge…
http://greensideofbusiness.maker.good.is/projects/new
http://greensideofbusiness.maker.good.is/
https://www.facebook.com/GOODmkr
THE SPECIFICS
In our fast-moving world, it's more important than ever for businesses to be savvy about responsible long term growth and sound sustainable practices for both profit and the planet. But it's difficult to know where to start.
GOOD and UPS are excited to announce the Green Side of Business challenge, inviting companies to share how they would like to become more eco-friendly. Whether you're a company's owner or employee, enter your business now to win advice from green business experts and $10,000 to invest in its long term sustainability efforts.
Through this program, we hope to start a dialogue about smarter steps a business can take to help align smart business practices with sustainability principles. Whether it's diversifying supply chains or creating a weekly carpool program, sustainability experts will offer ideas and advice about where a business can start.
Submissions are open from September 25 to October 26, noon Pacific Time, and your business will have a chance to navigate the growing sustainability business sector with advice from experts—and $10,000. The chosen company will be selected based on its potential and commitment to improving sustainability growth. The business will also win a feature on GOOD to inspire other companies through its successes and challenges.
Check out the 2011 winner for inspiration!
Connect with this challenge on Twitter @GOODmkr and Facebook.
Submission tips:
Include a photo or video that represents your idea. Photos should be in JPG, PNG, orGIF format, at least 570 × 345 pixels and no larger than 10MB. To include a video, use a YouTube URL. If you have any questions, please review these FAQs or send us an email atmaker@goodinc.com. RULES & REGULATIONS This Challenge is open for submissions from September 25 noon PT to October 26 noon PT. US based companies are eligible to apply. A panel of judges will select one winner to receive $10,000, advice from experts in their sector, and a feature on GOOD to inspire other companies through its successes and challenges.
See on greensideofbusiness.maker.good.is