See on
Scoop.it
-
Yellow Boat Social Entrepreneurism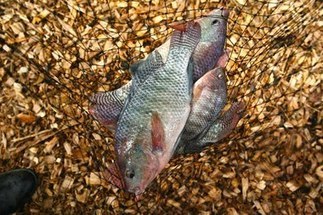 Today, we answer this question: Whatever happened to the urban farm started by three childhood friends in Cleveland's Kinsman neighborhood with the goal of producing healthy vegetables, farm-raised tilapia fish and jobs for inner-city residents?
http://www.cleveland.com/metro/index.ssf/2012/10/urban_farm_in_clevelands_forgo.html
Despite a tough economy, the urban farm in Cleveland's Forgotten Triangle doubled its greenhouse space in the last year and produced roughly 14,000 pounds of food for local residents, according to Damien Forshe, Keymah Durden and Randell McShepard, co-founders of the Rid-All Green Partnership.
"It's been mind-blowing," said Forshe, as he stood recently on Otter Avenue near East 81st Street surveying the six greenhouses where the Green Partnership now grows food year round. "It's a business now. But it's a business that brings me peace."
The farm, which is mostly powered by solar energy and stands on property that had been an illegal dumping ground, is named after Forshe's environmentally safe pest control business. It's beginning its third year of operation.
See on cleveland.com